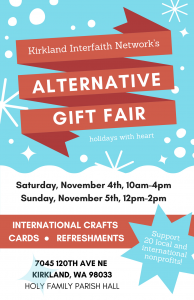 This holiday season surprise your loved ones with a gift that is truly meaningful.  At the KIN Alternative Giving Fair you can make a donation in the name of your recipient to wonderful local, national, and international nonprofit organizations.  How does it work?  You make a donation that can purchase a new window for a house being built by Habitat for Humanity, or that can pay for the training of a Hero Rat for landmine removal, or a night in a shelter for a homeless family.
You will receive a lovely card to give to your recipient explaining the donation that was made in their honor.  No malls, no lines, no wrapping, and no wondering if it is the right size and color. Best of all it is a gift you give twice as it will bless someone in our community, nation, or world that is in need.
Join us at Holy Family Catholic Church in the Parish Hall on Saturday November 4th from 9AM to 4PM or on Sunday the 5th from Noon to 2PM.  The address is 7045 120th Ave NE, Kirkland, WA 98033.  We Ho, Ho, Hope to see you there!